Diss Guy: Dirk Nowitzki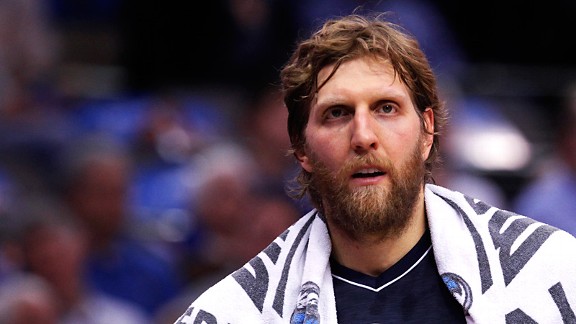 It must've been a rough year for Dirk Nowitzki.  The guy missed the playoffs for the first time in over a decade, due chiefly to his absence for the first two months of the regular season after knee surgery.  He averaged just under 18 a game; his lowest since his rookie season.  His team finished only 41-41, and had to sport grizzly beards for most of the season (I didn't mind).  And to top it all of?  He has to take a pay cut.  In a recent ESPN report, Nowitzki said that, if it meant getting both Chris Paul and Dwight Howard this summer in free agency, he would accept far fewer years and dollars on his next contract in an effort to preserve cap flexibility and build another contender in Dallas.  The story's author, Tim MacMahon, quotes the Mavericks' franchise player as saying, "It's not about money. Obviously, Cuban took care of me for a long, long time. I always tried to pay him back by hard playing and being here for this franchise, so I don't think we're going to fight over money. I want to compete over these last couple of years. That's going to be the goal."
Now, we shouldn't shed any tears for Nowitzki, and the man himself would not want us to.  As MacMahon points out in the story, only four players have earned more money over their careers than Dirk.  His $22.7 million salary next season will be second highest in the NBA, behind Kobe Bryant (who will likely miss some or all of next season).  And it's not like Dirk has ever been required to stay in Dallas.  In fact, the last time Dirk took a "pay cut" from the Mavs (he could've taken a $96 million contract in 2010, and instead took a paltry $80 million contract) things ended up really well for them: they used the extra money on Tyson Chandler and won an NBA championship the next season.  History shows that things could work out in Dallas, and Dirk's selflessness (as far as that exists when we're talking about multi-million dollar salaries) tends to be a first step.
But for Dirk purists (which I'm not) this isn't exactly the way we wanted to see his career end up.  Years of consistent playoff contention throughout his prime have led to a distinct dearth of young talent in the twilight of his career. Roddy Beaubois, the supposed future running mate for Dirk, never developed and looks about ready to flame out of the league.  Their current team of contractual mercenaries never gelled, and now look ready to spread their wings and fly to other destinations in the league where they can get a bit more financial stability.  Once again, it's up to the Mavs front office and cacophonous owner to try and assemble a cast of free agents and desperate players just wanting another year of NBA money to try and get Dirk to the top of the mountain.  They must convince CP3 and Dwight — two players whose free agencies have now seemingly lasted three full seasons — to stop what they're doing in Los Angeles and join Dirk and Mark in Big D.  It seems like a longshot.
While no window is ever closed in the NBA, this is undoubtedly a make-or-break year for Dallas.  There are more teams ascending than descending in the West's top 10, and Dallas will need to have an excellent summer to keep pace with their other lower-seeded counterparts in the West.  If they are able to sign the right guys, and get themselves back into the conversation for who'll win the West, it will come primarily from the efforts — and flexibility — of Dirk Nowitzki.
Miss Guy: Brian Phillips (Grantland)
Does everyone remember the bad years in Oklahoma City?  You know, when the team really was struggling on and off the court?  Sure, they had Durant, but they had all those terrible players who clearly weren't part of the future, and were basically just collecting paychecks?  They didn't win anywhere close to 30 games, and were perennial draft lottery attendees?  Man, things were really bad.  There was a certain stench of decay over the whole franchise.
Oh, wait.  Those days never happened in OKC?  Never?  Ever?
That's right.  How could I forget?  The Thunder have never had bad days!  All of their bad days happened in Seattle, when they were the Sonics.  They arrived in OKC in 2009, had one year of development (KD was a sophomore, Russell was a rookie, and Harden was a senior [in College]), then got going with the business of winning 50+ games during the regular season (and even during lockout-shortened seasons).  Except for their first season of making the playoffs, they've won a series each year.  In 2012, they won the Western conference and lost to the Heat in the NBA finals.  Things have been pretty peachy keen in OKC, as long as they've been around.
So forgive me when I roll my eyes, deeply and purposefully, at Brian Phillips, and his petulant "life isn't fair!" tantrum that came out on Grantland late last week.  I don't frequently go after other writers (especially those who are actually paid to write about basketball), but this was just ridiculous.  Yes, the Thunder, his team, had lost to the Grizzlies, and were facing a longer summer break than any of their fans thought.  It is disappointing when your team doesn't win its playoff series. But seriously, man:
"Losing makes you want to defend the people you love who've disappointed you. But you can't say that stuff, because to the people who don't feel the loss the way you feel it, you'll sound like a moron, or worse, a mystic. When you lose, I thought as I joined the crawl toward the on-ramp, and you want to hold on to the past that you're afraid is about to slip away from you, you have to say the opposite of what you mean. What Brooks should have told the media was not "Kevin Durant is pure of heart"; it was "sports is the worst and it sucks and I hate it."
Well, "if sports is the worst and it sucks and [you] hate it", perhaps you want to give your team back to Seattle.  If sports is the worst, you don't have to have it.  Otherwise, relax, relative newcomer to the NBA.  I know it seems like successful basketball teams fall out of the sky in OKC, like rain falling solemnly in Seattle.  But you can't win the West every year.  It just doesn't work that way.  You just can't always get what you want.